Create a Cozy Living Space with a Fireplace and TV
Have a TV and a fireplace? These features can live in harmony with a little planning and a sense of style. Take a look at our small living room ideas.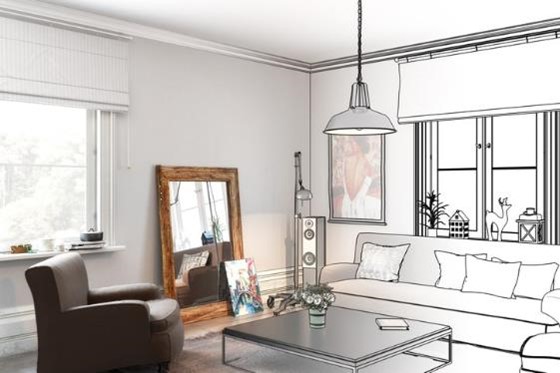 There's nothing better than having a fireplace to curl up near while you're watching TV. The ambiance of a crackling fire on a crisp fall or winter day is unmatched. However, finding the right place to mount your TV while still cashing in on the perk of having a fireplace can be challenging, especially when you have an apartment and can't exactly make any sweeping structural changes to the space. At HILLS Properties, we know how important it is to turn your apartment into a true home.
If you're struggling to marry the coziness of your fireplace with the necessity of your TV, this blog post is for you. We'll give you a few ideas that will inspire you to create the relaxing living space you've been dreaming of.
Mount TV Over the Fireplace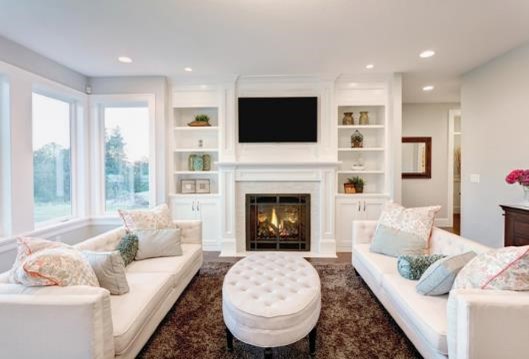 Mounting your TV over the fireplace is by far the most obvious and easiest answer when trying to add your TV to your living room with a fireplace. While it may be the easiest choice, it may not be the best option. When mounting your TV over your fireplace you'll have to consider a few things:


How far is your couch from the fireplace/TV?
Is your couch low profile or high profile?
How high up would you have to mount your TV?
Depending on where your fireplace sits on the wall, you may have to mount your TV high up for your TV and fireplace to coexist on the same wall. If it's too high, you run the risk of essentially having to look up at your TV while you're trying to relax on the couch. If your couch is far enough away you can get away with your TV being mounted a little higher, but a general rule of thumb is to mount your TV as close to eye level as possible.
It's also important to consider how high up you need your TV to be so that your fireplace won't cause your TV to overheat while it's on the same wall. As a guide, anything between 4-12 inches above the top of the fireplace or mantle is best. You can even buy a tilt mount to alleviate the issue of straining your neck while watching TV.
As a final note, consider whether you have a low profile or high-profile couch. If you're going for more of a Mid-Century Modern decor style, it's likely you'll have a low-profile couch. In this case, it's best to ditch the thought of mounting your TV above the fireplace and consider a different strategy.
Set Up Your TV Next to the Fireplace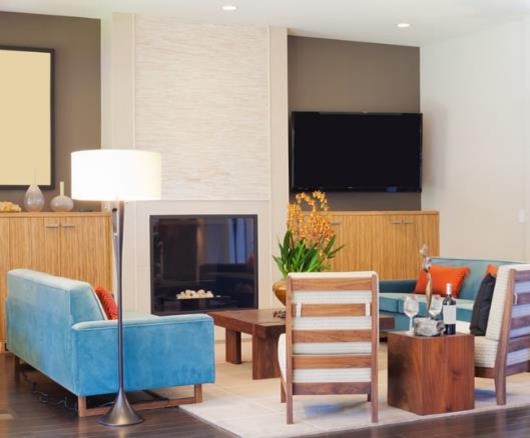 If your fireplace is between a large portion of white space and the hallway, this is a great opportunity to use that white space to mount your TV next to your fireplace. It may or may not help to create symmetry in the room, but still gives you a view of both your fireplace and your TV.
Even if your fireplace is smack in the middle of the wall, you can still set up your TV on one side and frame the other side by creating a book nook—or, use it as a space to display any vases or knick-knacks you might have.
Mount the TV on a Wall Adjacent to the Fireplace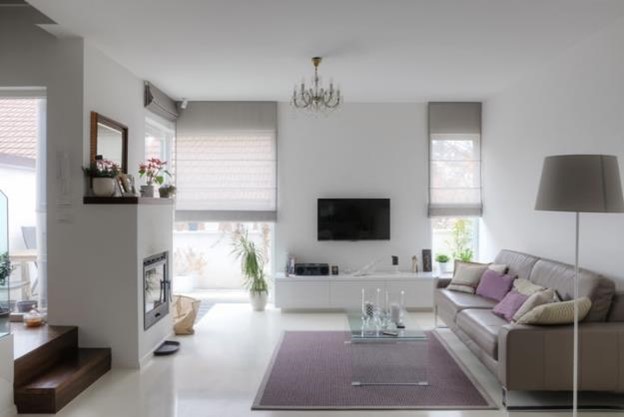 When in doubt, choose a different wall! Sometimes, despite our best efforts, it makes more sense to just mount the TV on the wall adjacent to the fireplace. It may sound weird, but the effect can look good and also allows you to create two different spaces in the same room. Set up matching chairs and create a space to chat with friends or your significant other by the fireplace. Alternatively, opt for a single chair with a footstool or chaise and create a cozy reading space. This set up is likely best with a larger living room, but you could still make this work with the right sized furniture.
Final Notes on Putting Your TV in the Living Room with the Fireplace
No matter how you choose to mount your TV, it's commonly agreed upon by most designers that TVs can be a bit of an eye sore when you have a beautifully laid out and designed home. If you care more about function than you do form, it may not matter to you how much the TV distracts from everything in your home, but if you want to create a well-balanced living room, here are a few final things to consider as you set up your new living room.
Buy a Picture Frame TV
Sometimes TVs don't create the most beautiful effect in your home, but they're a modern staple that nearly every household has. If you want to create a cohesive design while still keeping your TV in the living room, consider getting a picture frame TV. A frame TV is a TV that has a frame built around it to look like a picture frame and allows you to download a screensaver with your favorite piece of art. If it's not important for you to have a screensaver on your TV, you can also build a frame to go around your TV to create a similar effect.
Spacing is Key
Mounting your TV is more than making sure it's at a comfortable height from the ground and distance from the couch. It also depends on how much space you have to work with when creating your living room. You don't want your living room furniture bleeding into the dining room or having so much furniture packed into a small area that you no longer have large enough pathways to move about the room. If you have a small space, you may need to consider either getting smaller furniture or getting rid of excess furniture.
Having good spacing is also about planning so make sure you have your furniture mapped out before you start drilling holes in the wall. If you haven't moved into your new space or you don't want to make the effort to move your furniture around, a 3D planner can help. For instance, the furniture site Wayfair allows you to style and plan your room with items they sell on their site. If you already have the furniture you need, room planner can help you plan with the furniture you already have. You can even input the specific dimensions of your furniture.  
Add Decor to Help Your TV Blend with the Space
Another way to smoothly incorporate your TV into your living room is to transform it from a simple television into decor. Add shelving above your TV or place vases and decorative votives along your media console so that your TV doesn't stick out like a sore thumb. Another way to help your TV blend with your space is to invest in wire management. Many of these systems come with covers so you don't have to look at wires hanging awkwardly against the wall. You can even paint the covers to help them blend with your space.
Create Your Own Style at a HILLS Community Today
Now that you have a few ideas as to how you can style your living room around your fireplace, it's time to find a place to style! When you make your home at HILLS, you'll have the freedom to style our spacious floorplans anyway you'd like. If our styling tips haven't deterred you from styling your home around a fireplace, flex those design muscles! Otherwise, we have plenty of floor plans that allow you to get creative in other ways.
With friendly communities across Ohio, Indiana, and Kentucky, you're sure to find the apartment home in the place you want to be. Stop by our property offices to speak with a leasing manager or contact us online today!
Explore Our Apartments With Fireplaces: