Decluttering After the Holidays
After the new year kicks into gear, it's a perfect time to get into the decluttering spirit. Here are our tips to move towards a clean apartment.
The holiday season brings with it joy, happiness, opportunities to spend time with friends and family, which can mean a jam packed schedule. Preparing for holiday parties, buying and wrapping gifts, and still making time to take care of your home can be a lot. Things deemed unimportant during this time are often ignored, leaving you to deal with them once the holidays are over.
One area of your life that may be ignored during the holiday season is home organization. If you aren't the one hosting the celebrations and parties, clutter can quickly begin to accumulate as you collect various treats, gifts, and decorations throughout the season. After the holidays, you are left with lots of items strewn about and not a lot of space to put said items, particularly if you live in an apartment. At HILLS Properties, we want to help you declutter your home during and after the holiday season with some helpful tips and tricks for home organization.
Steps for Holiday Decluttering
As we move out of the holiday season, it is time to get your life back in order and on track to start the new year on the right foot. This begins with cleaning up your living space to give you a clean slate. You will no doubt have gained new clothes, home décor, kitchen appliances, and other household items throughout your various holiday celebrations. In order to make room for these new items, you will need to sort through your old things and reorganize your living space.
Below, you will find four easy steps for decluttering your home after the holiday season. These steps include putting away your holiday decorations, removing unwanted household items, packing away your seasonal clothing, and investing in at-home organization tools. By following these steps, you are on your way to a clutter-free life to start the new year.
Put Away Holiday Decorations
The first step to decluttering your living space after the holidays is taking down your seasonal decorations. While many people tend to leave decorations up for quite a while after the holidays, this task can help you put your apartment back in order. Also, once the task is completed, you will feel a sense of accomplishment and relief that you were able to cross something off your to-do list.
Start by taking down large holiday focal pieces, for example, the tree. From there, you can start taking down lights, signs, and figurines that are on your walls and tables and around your windows and doorways. Make sure to vacuum and sweep once you have packed everything to get rid of glitter or flocking that may have fallen on your floor. From there, you can finally put your storage tubs and boxes back into your closet or storage unit until the next holiday season.
Remove Unwanted Household Items
After attending holiday celebrations, you may have walked away with new electronics, kitchen appliances, or décor for your apartment home. With the addition of these new items comes a need to downsize and get rid of things you no longer have a use for. As you are replacing old household items with new ones, you will want to begin making piles of items you want to either sell, donate, or throw away. This will prevent you from keeping items you aren't going to use and are just taking up unnecessary space.
If you choose to go the donation route, some great places that are always looking for donations are homeless shelters, soup kitchens, youth emergency shelters, and domestic violence shelters. All these places have people in need that would put your items to good use. You can also contact your local school district to see if they could give your items to students in need or take some appliances off your hands for their home economics classes.
Pack Away Seasonal Clothing
While cold weather may still be in the cards for you after the holidays are over, there are still some clothing items that could be packed away. That dress you wore to the office holiday party may not be in use much until the next holiday season. In addition, ugly holiday sweaters and other holiday-themed clothing items can also be packed away for the year.
Not only will this help you make room for the new clothes you received as gifts or purchased during post-holiday sales, but it will also make your closet feel less cluttered. This may even be a good time to go through other clothing items to sell or donate. After all, you may decide to make a change to your wardrobe in the new year as you make some potential changes to your lifestyle. This will help you get rid of the old to make room for the new.
Invest in At-Home Organization Tools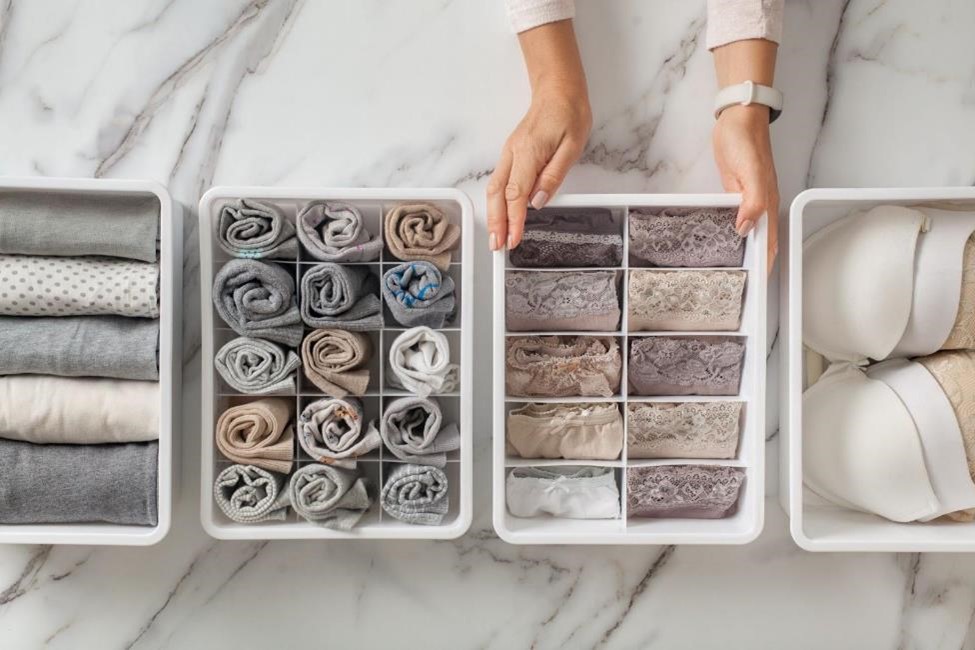 Even after you pack away seasonal decorations, clothing, and unused items, there is a chance you will still be dealing with unwanted clutter throughout your apartment. One way to help solve this issue is to invest in at-home tools to help you organize your living space. A great option is an under-the-bed storage bag. This will give you the storage you need without taking up too much space in your storage closet.
Another option is a hanging organizer. This is a great solution for shoes, crafting supplies, and even your holiday wrapping paper. Once you've cleaned up your bedroom, living room, or craft room, simply hang these organizers on the back of a door or in your closet. Investing in at-home organization tools is an easy way to clear up the clutter that you can't quite part with just yet.
Live a Clutter-Free Life at Your HILLS Properties Apartment
If you are looking to expand your living space, find your local apartment community managed by HILLS Properties. We offer spacious floor plans designed to accommodate every lifestyle. Find cozy 1- and 2-bedroom apartments and several communities near you. When you're ready to expand your life, contact your locally managed HILLS Properties apartment community and begin living your best, most clutter-free life today.