How to Spend an Evening in Cincinnati, OH 
Find out why residents love living near the nightlife activities in Cincinnati. We'll walk through must-try restaurants, bars, and more.
Whether you're new to the Cincinnati area or are looking for new places to explore in the city, we have you covered. Also known as "Cincy", Cincinnati is an eclectic city with a welcoming Midwestern culture mixed with a southern flair. From the bustling downtown to outdoor recreation activities along the outskirts, there's something for everyone to enjoy.
Things To Do in Downtown Cincinnati at Night
When you're looking for fun things to do on a Friday night in Cincinnati, we have options. The Cincinnati nightlife is packed with activities, perfect for everything from an evening with friends to a memorable date night. Grab a cocktail at one of many bars, explore an art museum, visit a music venue, or find something else that tickles your fancy with ease.
1. Visit Craft Breweries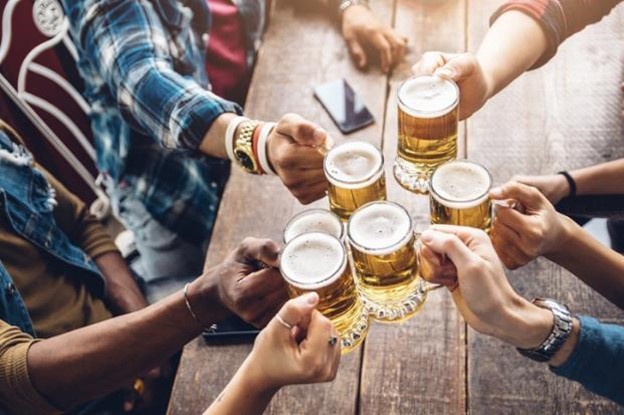 Believe it or not, Cincinnati has a rich history in craft beer that dates back over 200
years. The tradition is alive and well today, with more than 80 breweries in the area that serve unique beers you won't find elsewhere. A few of the staple breweries in Cincinnati include:
MadTree Brewing
Urban Artifact
Braxton Brewing
Rhinegeist Brewery
Third Eye Brewing
2. Enjoy the Views of the City at a Rooftop Bar
During the warmer months, there are plenty of rooftop bars to choose from in the metropolitan area. Enjoy a delicious meal or kick back with a cocktail with views of the skyline and sunsets. Some of our favorite rooftop bars to visit on a Friday night in Cincinnati include:
AC Upper Deck
Bishop's Quarter
Gaslight Bar & Grill
Lisse
Overlook Kitchen + Bar
Pins Mechanical Company
Top of the Park
The View at Shires Garden
Vista at Lytle Park
3. Visit Fountain Square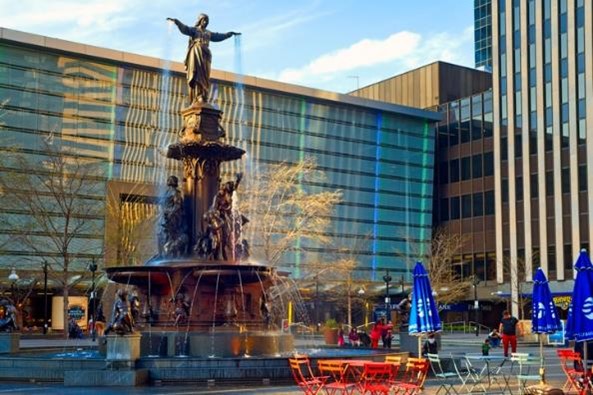 Known as the center of downtown Cincinnati, the Genius of Water Fountain is the central point for the entertainment district. Here you'll find places for dining, drinking, or attending community events. A few of the signaturerestaurants and bars in the Fountain Square are Graeter's Ice Cream, Via Vite, Jeff Ruby's Steakhouse, and March First Brewing.
4. Explore the Art and Music Scene
For those who enjoy the arts and culture scene, there is plenty of opportunity in Cincinnati. With attractions including performing arts, museums, galleries, and more, there are many sights to see. Unique experience on every corner can give art, architecture, or history enthusiasts alike something to love.
If you're a fan of the performing arts, the Cincinnati Ballet, Opera, or Symphony are solid options. For architecture and art museums, check out various outdoor murals or the Cincinnati Art Museum.
5. Get Lucky at One of the Cincinnati Casinos
There are a few different casinos in the Cincinnati area, including the Hardrock Casino located in the downtown area. In addition to traditional casinos, horse race betting is another big entertainment item in Cincinnati. There's also Belterra Park, a "racino" in the city that offers thoroughbred horse race betting, live racing, gaming, and casual dining.
Best Restaurants in Cincinnati
You may or may not have heard of the famous"skyline chili" dish that originated from Cincinnati. This dish is unique in that it's a chili sauce poured over spaghetti instead of a soup form. Many Cinncinatians are fond of the spice blend that gives it a sweet and savory taste.
Aside from the famous skyline chili dish, there are plenty of other tasteful dining options to fill your cravings in Cincinnati. However, if you're curious about what the skyline chili hype is all about, you can check out restaurants that serve it, including: Skyline Chili, Gold Star Chili, or Price Hill Chili.
You can find over40 different cuisine types in the area. Whatever your pallet craves, you're sure to be satisfied while visiting Cincinnati. A few restaurants staples in the area include:
Sotto
Montgomery Inn The Boathouse
Nada
Krueger's Tavern
Boca
Bakersfield
The Eagle
Benefits of Living in Cincinnati
Being one of the biggest cities in the Midwest, there are many reasons why so many people call Cincinnati home. Many find the diverse neighborhoods, booming job market, and low cost of living to be the top perks of living in Cincinnati. Residents get a taste of the city life while still being able to afford the cost of living and enjoy outdoor recreation.
A few of the neighborhoods in Cincinnati include:
Find Your Next Home at HILLS Properties in Cincinnati
Now that we've covered places to visit, food to try, and top sights to see, it's no wonder why Cincinnati is home to over 300,000 residents. It's an exciting yet comfortable place to be, attracting people near and far. Best of all is that living in a Cincinnati apartment or townhome can provide one of the best residential experiences in the area.
Whether you're moving to the area or are a long-term resident looking for somewhere new to live, HILLS Properties offers spacious, luxurious apartment homes. With modern appliances and high-quality features included, you're bound to feel right at home in one of our apartment communities. Browse our available apartments in the Cincinnati area to get started!
Our Apartments in Cincinnati, OH: